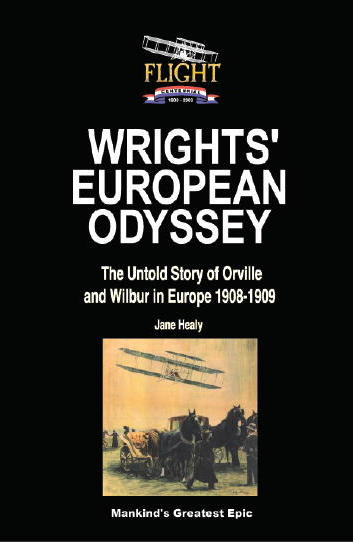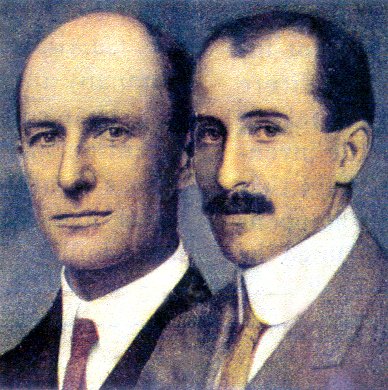 Wrights European Odyssey; The Untold Story of Orville and Wilbur in Europe 1908-09 by Jane Healy
The statistics, antidotes, letters reactions of crowds and countries and progress made in aviation as the Wrights spent a year demonstrating the Flyer. Over 160 photographs plus 30 illustrations. Anecdotes collected of the Wrights in Europe, quotes, letters home, bringing the two engaging characters to life and making them "jump out of the page."
This book is for those interested in the history of the Wright brothers, flying, collectors, historians, libraries, schools, and museums.
Video and DVD, Flying Machine Dreams, The Wright Brothers is a 25-minute film with flying machines that did not get off the ground and depicts the Wright's year in Europe. Included are many scenes of both Orville and Wilbur flying. It is set to Italian flight music with subtitles.
Please mail this order form to…
Aerial Trail Box 169 Wright Brothers Branch,
Dayton, Ohio 45409
Send ________copies of "Wrights' European Odyssey"
Price of each book is
(Soft back)
$30.00. for a total of $__________
(Hardback)
$42.00for a total of $____________
Shipping included
Video: $22.00
Shipping included $___________
DVD: $15.00
Shipping included $__________
Ohio residents add 6.5%
Sales tax. Total amount $___________
Total $___________
If tax exempt, enter vendor
Or tax exempt number ___________
Order No. or P.O. number ____________
Payment Terms. ____________
Name ______________________________
Street ______________________________
City/State ___________________________
Zip ________________________________
Signed _______________________________
Thank you for your order